Description
---
DON'T MISS THE VIDEO OF THIS AMAZING LITTLE "GARAGE FIND" 427 BIG BLOCK COBRA REPLICA!! ONLY 819 MILES!!

BEAUTIFULLY HAND ASSEMBLED BY A MASTERFUL BUILDER. HIS THRILL WAS BUILDING AND SHOWING THEM.

IRONICALLY NOT DRIVING THEM. HE KEPT THIS ONE FOR HIMSELF ALONG WITH THE SILVER COBRA.

ALWAYS COVERED IN A GARAGE. BOTH PRESENT AND PERFORM AS NEW! DON'T MISS IT! JEFF 410-562-9319

FEATURES INCLUDING FORD RACING 427 CRATE ENGINE, TREMEC HEAVY DUTY 5 SPEED, DUAL FEED HOLLEY CARBURETOR, MSD ELECTRONIC IGNITION, SIDE PIPES WITH BURN GUARDS, ALUMINUM RADIATOR WITH ELECTRIC FAN, TRICK FLOW ALUMINUM DIFFERENTIAL COVER, 17" ZR ALLOY WHEELS, DISC BRAKES, SWAY BARS, DUAL ROLL BARS, WIND WINGS, HOOD SCOOP, LEATHER SEATS, AUTOMETER GAUGES, FOG LIGHTS, SIMPSON SAFETY HARNESSES, AND TONNEAU COVER! STILL LIKE NEW WITH ONLY 817 MILES!
TITLED AS A 2008 CUSTOM.

WHY WAIT A YEAR OR MORE HAVING ONE BUILT?? DRIVE THIS LEGEND TODAY!



TURN UP THE VOLUME!!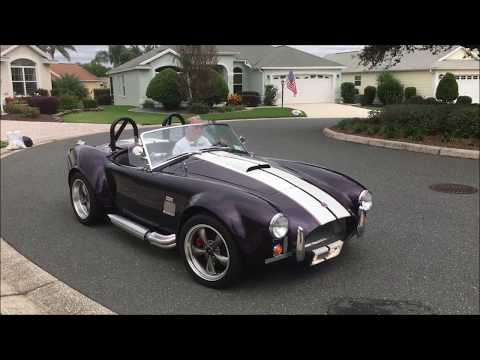 427 Cobra Garage Find For Sale! - YouTube
Video will open in a new window
Check with your state about titling.