Description
---
NOW YOU CAN GRAB THIS KNOCKOUT AT A GREAT PRICE! JUST REDUCED FROM $34,950.00.

"SEE IT - LOVE IT - BUY IT!!" SOMEONE IS GOING TO LOVE IT...



SIMPLY BEAUTIFUL '77 VETTE! ALL MATCHING NUMBERS DRIVE TRAIN COMPLETELY REBUILT AND PUMPED UP WITH RECEIPTS!
CALL JEFF - 410-562-9319 THIS IS A PRIVATE SALE SO NO TRADES PLEASE. FINANCE AND SHIPPING CONNECTIONS AVAILABLE.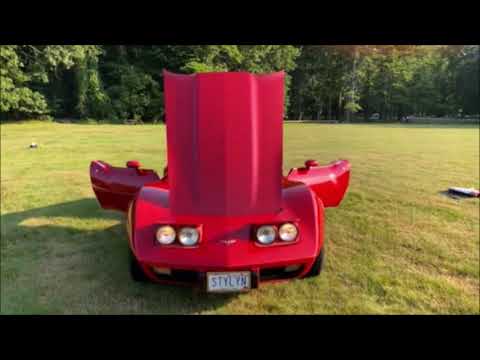 Watch Video Full Screen...
Beautifully equipped with power steering, power 4 wheel disc brakes, tilt and telescopic steering wheel, power windows, automatic transmission with mild shift kit, Modern Air Conditioning, MSD Ignition, Top of the line Bilstein Performance Shocks, and the first year ever Factory installed Luggage / T-Tops / Rack on the back. You choose what goes in the car or on the rack. Adds a bit of European flair I think. Also American Racing Wheels with Raised White Letter Radials, and custom Sound System added for your listening pleasure. Over $60,000.00 invested.
Did you know that 1977 was huge selling year for Corvette? Just under 50,000 sold and all were T-Top coupes! Did You know that Chevy shortened the steering column for 1977? 2 inches to make it easier to get in and out of? That along with this cars optional Tilt and Telecopic Wheel makes being comfortable a breeze!
Body and Paint done to Show Quality Level. Very expensive, body apart, paint job and after the proper time $3,500.00 worth of Clear paint protection film applied.
Oh, All weather stripping was replaced too.
Engine was rebuilt, New rods, pistons, bearings, crankshaft reconditioned, heads rebuilt with all new valves and valve springs, High performance street cam, new lifters, High rise intake manifold, rebuilt, re jetted Quadrajet Carburator, Ceramic coated Headers feeding into true dual exhaust.
FRESH WALK AROUND -
The owner of this car, which was restored 10 years ago, is beyond fussy about it. It has spent it's life in the showroom you can see in the pictures.
Still looks like New - Runs and Drives better than new.
Money was no issue when it came to the restorations and build of this special Corvette.
Little things like, he hated the factory original A/C compressor because they are known to fling oil up onto the under side of the hood.
He special ordered a higher technology Compressor with zero leaks and performs Great.
He also found that inside the blower motor was weak. So he ordered a brand new, higher power C5 Blower Motor and had that installed. Works great.
Under all the new carpeting was laid Dynamat Sound Proofing. Everywhere it could be placed. Helps with keeping heat out of the car too.
Seats were converted from partial leather from the factory, to Full Leather. Gorgeous...
Even the clock was sent out to be converted to quartz movement. Keeps perfect time.
The only thing he did not worry about restoring was the cruise control. Those mechanical units were very unreliable anyway. The factory said they were normal to gain 7 to 8 miles per hour when going down hill and losing the same going up hill. I remember that while working as a Chevrolet service writer in the 70's.
The owner says this is very close to being a brand new car. From what I am seeing and hearing in the video, can't say I disagree!
"Little Red Corvette!" Prince liked 'em too!
All claims are made by current owner, previous owner, and Chevrolet Motor Division.
Dream Car Sellers makes no claims about any car.
You are invited to check the car over in person or by appraisal company prior to sale.