Description
---
WELL, WHAT WE HAVE HERE IS NO FAILURE TO COMMUNICATE! THIS IS A GORGEOUS, SHOW AND GO ANY WHERE 1960 CORVETTE!

NOTE OF INTEREST - IT WAS A 1960 CORVETTE THAT STARRED IN THE NEW TV SHOW CALLED "ROUTE 66!"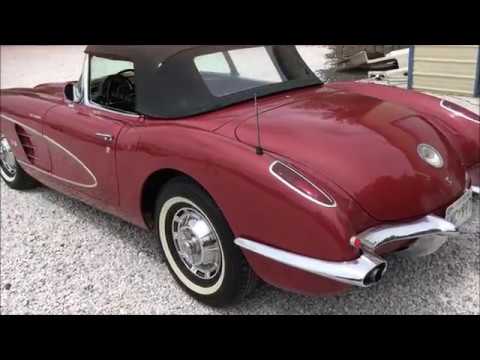 Beautiful 1960 Chevrolet Corvette For Sale! - YouTube
Video will open in a new window
VIDEO ON A CLOUDY DAY
SHE'S POWERED BY A DATE CODE CORRECT 283 - 230HP 4BBL, V-8. CORRECT "CQ" CODE = 283 / 230 HP. MATED TO A 4 SPEED. (JAN, 1960 CASTING DATE )
THERE WERE NO MATCHING ENGINE NUMBERS BACK THEN SO IT TAKES AN EXPERT TO FIGURE OUT IF IT IS THE ORIGINAL BLOCK OR NOT.
ONE EXPERT SAID YES AND ONE SAYS NO... WE DO KNOW THAT IT HAS BEEN REBUILT TO FACTORY SPEC'S AND SUPER TUNED BY THE OWNER.
HE COLLECTS AND OWNS A LOT OF THE EARLY "SUN" DIAGNOSTIC EQUIPMENT THAT WAS USED TO TUNE CARS BACK IN THIS DAY.
THE 4 SPEED SHIFTS PERFECTLY, CLUTCH IS GREAT, AND THE EXHAUST IS CLEAN AND SOUNDS FANTASTIC. YOU GET TO HEAR IT IN THE VIDEO!!
UNDERNEATH IS VERY CLEAN. NO ISSUES DETECTED. HAS NOT BEEN FRAME OFF RESTORED AND DOESN'T NEED IT. FRAME UP RESTORED.
LAST YEAR FOR THE "FRENCHED TAIL LIGHTS" MAKES THESE VERY COOL!
WEARING IT'S ORIGINAL SOLID COLOR OF HONDURAS MAROON OVER BLACK INTERIOR. COLORS ARE A MATTER OF OPINION BUT I CAN SAY I LOVE THIS COMBO.
WHEN YOU SEE THIS CAR IN PERSON, SIT IN IT LOOKING ALL AROUND, AND FIRE IT UP, THE FEELING YOU GET IS
FRESH. JUST THE WAY YOU HOPED IT WOULD BE...
EVERYTHING I TRIED IN THE CAR WORKS, ALL LIGHTS, TURN SIGNALS, HORN, TACHOMETER, OTHER GAUGES, CURRENT RADIO.
IT COMES WITH THE RESTORED WONDER BAR AM RADIO IN THE BOX TOO!
DOOR FIT IS REMARKABLE. THE OWNER TOOK IT UPON HIMSELF TO REMOVE ANY RATTLES FROM INSIDE THE DOORS. WHEN YOU CLOSE THESE DOORS IT SOUNDS LIKE A MERCEDES DOOR CLOSING. VERY UNUSUAL!
IF YOU ARE LOOKING FOR A SOLID, BEAUTIFUL '60 CORVETTE TO SHOW AND CRUISE, CONSIDER THIS CAR. IT IS READY TO GO!
DON'T MISS THE VIDEO! PERSONAL INSPECTIONS ARE WELCOME. IF YOU ARE A SERIOUS BUYER.
THANKS FOR LOOKING!
JEFF WHITAKER 410-562-9319
ALL CLAIMS MADE BY CURRENT AND PAST OWNERS AND DOCUMENTATION...
WE ALWAYS ENCOURAGE AN IN PERSON OR PROFESSIONAL INSPECTION PRIOR TO BUYING.
DREAM CAR SELLERS MAKES NO CLAIMS OF AUTHENTICITY OF ANY NUMBERS, TAGS, OR DOCUMENTATION ON ANY CAR.
WE PRESENT WHAT IS DELIVERED TO US IN GOOD FAITH.