Description
---
THIS BEAUTY IS SOLD...

SELLER JUST DROPPED THE PRICE 10 GRAND FOR A QUICK SALE ON A GREAT ROD! NEW BLOW OUT PRICE OF 29,900.00
CALL JEFF TODAY - 410-562-9319 PRIVATE SELLER.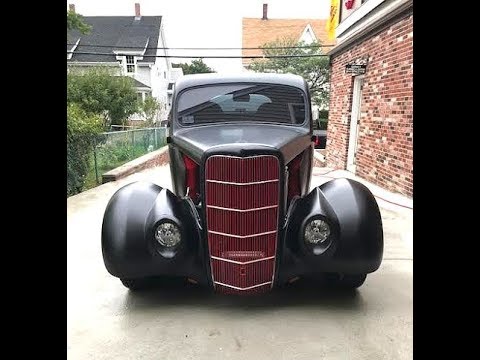 Pro Built '35 Ford Steel Street Rod For Sale! - YouTube
Video will open in a new window
CLICK THE PICTURE
AS YOU KNOW I NORMALLY DEAL IN CORVETTES, COBRAS, AND MUSCLE CARS BUT ONCE IN A WHILE I FIND A
GREAT STREET ROD AT A GREAT PRICE.
THIS GENTLEMAN WAS REFERRED BY ONE OF OUR PREVIOUS SELLERS OF A BLACK '67 GTO.
1935 FORD,
STEEL BODY COUPE
. PRO BUILT 5 YEARS AGO. READY TO CRUISE THE USA! HAS ABOUT 1,000 MILES A YEAR TO PROVE IT. BULLET PROOF RELIABILITY.
POWERED BY A 383 STROKER SMALL BLOCK @394HP / 425 TORQUE, TURBO 350 AUTOMATIC, LOKAR PUSH BUTTON SHIFTER, BILLET TRANS COOLER, 9 INCH FORD REAR WITH 3.42 GEARS, MAKES THIS LITTLE BUGGY FLY!
HAS NOT BEEN TRACKED BY IT'S 65 YEAR OLD OWNER.
MINI TUBBED IN THE REAR WITH FAT RUBBER TO HOOK UP QUICK. SHOW DETAILED TRUNK. '37 FORD HEADLIGHTS WITH LED'S OUT BACK.
CUSTOM FRAME, HEIGHTS SUPER RIDE FRONT END, TUBULAR FRONT SUSPENSION, 4 LINK REAR, FRONT DISC BRAKES, COIL OVER SHOCKS ON ALL 4 CORNERS, BITCHING FIREWALL AND FLOORS, SHOW QUALITY UNDERNEATH. OH, STAINLESS EXHAUST WITH FLOMASTER MUFFLERS TOO!
YOU WILL SEE THE UNDER IN THE VIDEO JUST SHOT.
PAINTED IN SATIN BLACK PAINT ONE YEAR AGO. FULLY ADJUSTABLE BLACK LEATHER BUCKET SEATS WITH RED DASH AND CARPETS.
NO WIPERS WERE INSTALLED BUT WILL GO WITH THE CAR IF YOU FEEL THE NEED. NEVER BEEN IN THE RAIN OR SNOW.
WONDERFULLY EQUIPPED WITH A CUSTOM BILLET - TILT STEERING WHEEL, VINTAGE A/C AND HEAT, CUSTOM GAUGES, CONSOLE WITH HIDDEN CD SYSTEM, MATCHING BLACK SEAT BELTS, POWER WINDOWS, RACK AND PINION STEERING, BILLET PEDALS, COLOR MATCHING WHEELS WITH FAT RUBBER!
IF YOU ARE LOOKING FOR A READY TO GO, BAD BOY, STREET ROD, HERE IT IS! A PLEASURE AND EXCITING TO DRIVE.
IT WOULD NOT BE SHOCKING TO SEE THIS CAR OUT THERE AT $59,990.00! SHOP AROUND AND YOU WILL SEE!
DON'T MISS THE VIDEO ABOVE SO YOU CAN REALLY SEE AND HEAR HOW NICE THIS CAR IS!
THANKS FOR LOOKING!
ALL CLAIMS AND DESCRIPTIONS ARE PROVIDED BY THE OWNER AND BUILDER. IN PERSON OR PROFESSIONAL INSPECTIONS ARE WELCOME.