Description
---
PRICE JUST DROPPED FROM $119,750.00 TO 99,750.00!! OWNER NOW HAS A FOOT ISSUE AND CAN'T DRIVE IT...
NEVER BEEN ABOVE 3,200 RPM'S WHILE BREAKING IT IN. YOU CAN'T FIND ONE AS NICE OR NEW FOR THIS PRICE. IT IS A "SUPERFORMANCE COBRA!"

STEP ASIDE OTHER COBRAS, CORVETTES, LAMBORGHINIS, AND FERRARI'S. WE DON'T WANT TO GET ANYONE HURT HERE...


ESENTIALLY A BRAND NEW "SUPERFORMANCE" TOP OF THE LINE COBRA MKIII!! 495 MILES. STILL HAS BREAK IN OIL IN IT.
YOU WANT THE BEST IN THE WORLD? HERE IT IS...

JUST ENCLOSED SHIPPED FROM CALIFORNIA TO THE COBRA SHOP THAT DID THE MECHANICAL BUILD IN OHIO. NOW HAPPILY RESIDING IN FLORIDA.. CLEAR TITLE. 1 OWNER.

SHE'S POWERED BY A BRAND NEW, ALL ALUMININUM 427 BIG BLOCK, BORED AND STROKED TO 496 CUBIC INCHES. PROVIDING 650 HORSES AND KEEPING THE FRONT END LIGHT LIKE A SMALL BOCK!. ONLY 9.5 TO 1 COMPRESSION SO SHE SCREAMS ON PUMP GAS, HANDLING THE POWER IS THE HEAVY DUTY TKO 600, 5 SPEED TRANSMISSION AND FORD NINE INCH REAR WITH INDEPENDENT SUSPENSION.
WE NOW HAVE THE DYNO SHEET. WOW! HEAR THE RUMBLE BELOW!! "KING OF THE WORLD COBRA NO DOUBT."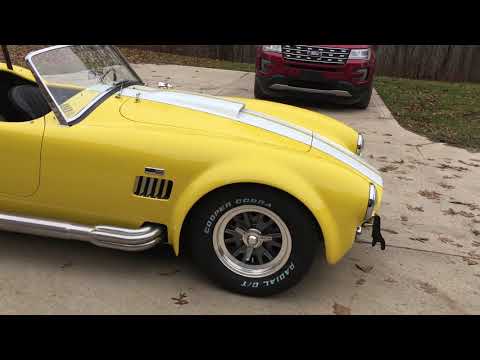 Brand New Superformance Cobra 496C.I. At 650 HP! - YouTube
Video will open in a new window
Check with your State regarding registration.
THIS KNOCK OUT IS NOW READY TO SHOW ANY WHERE AND GO ANY WHERE!!

"SUPERFORMANCE" IS LICENSED THOUGH CARROLL SHELBY LICENSING. THEY OFFER THE FINEST REPRODUCTIONS IN THE WORLD AND CONTINUATION SERIES COBRA'S FOR UP TO $550,000.00. SERIOUS BIG BOY TOYS RESPECTED BY ALL.
DON'T WAIT A YEAR AND A HALF FOR YOURS! GET THIS ONE TODAY! CALL JEFF 410-562-9319



JEFF WHITAKER 410-562-9319
Hand laminated fiberglass body with reinforcing inserts

Aesthetically and dimensionally correct body painted with two stage show quality paint finish

Ceramic coated headers and side pipes (silver ceramic shown in photographs)

Stainless steel roll bar which is mounted to the chassis

Original style indicator lenses and head lights and Quick Jacks

Original style hand crafted windshield frame chrome over brass & windshield wipers

Original style 15 Halibrand style rims with spinners

Moto- Lita wood steering wheel original design

Leather Seating Surfaces with adjustable Drivers seat

Carpeted interior and trunk

Original style Smith gauges and Lucas switches with Reverse 180mph speedometer

Original style pedals, catches, fittings, shifter and hand brake lever

Sun Visors, Side fitted wind wings with drivers side and rear view mirrors

Heater/defogger

Original style latch and lock seat belts

Heavy duty TIG welded ladder frame chassis with crumple zones

Fully independent front and rear suspension with limited slip rear differential

Wilwood® power-assisted vented disc brakes (Calipers: Front-4-pot & Rear-Single-pot)

Bilstein® custom crafted coil-over shocks

Aluminum, single core hi-performance radiator, shroud, dual fans, oil cooler and braided lines

Aluminum finished firewall which dissipates engine heat

Monza style filler with Locking gas cap

17 gallon pressure tested stainless steel fuel tank

Headers for a Ford based V8 engine

Only Cobra Reproduction licensed through Carroll Shelby Licensing Inc

Superformance forum (SCOF) & Superformance registry where sales are recorded to preserve value of car